Fireplaces are what is referred to in our industry as a zero clearance appliances. Fireplaces allow you to frame the appliance in with wood and drywall. They are designed and insulated to be installed this way. After they are installed you can add whatever mantel, surround, stone, brick, tile, wood work, etc… that you want.  You do not have to go through the expense of having a complete masonry fireplace installed with a chimney. Most of the gas Fireplaces can be vented out the wall of the home or business as a direct vent. These fireplaces come as either Natural Gas, Propane or Wood. There are many options in sizes, screens, doors to fit almost any taste. We handle Kozy Heat Fireplaces which (like our business) is a family company. Kozy Heat is based in Minnesota and was started in 1976. They have a large product selection and are a good quality fireplace.
Stop down and see our display of fireplaces. Let us show you the possibilities or click on the link below to see what is available. We would be happy to discuss your ideas and plans for your new home or your remodel.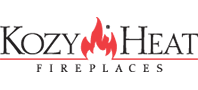 Link to Kozy Heat Website.